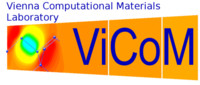 The "Spezialforschungsbereich Vienna Computational Materials Laboratory" ("SFB ViCoM") is a Special Research Area on Computational Materials Science (Project Number: "Spezialforschungsbereich F41"), funded by the Austrian Science Fund (FWF) and managed mainly by researchers of the University of Vienna and the Vienna University of Technology.
The research of the Vienna Computational Materials Laboratory will mainly focus on an improved description of electronic correlation in solids. The newly developed methods will be applied to cutting-edge materials research using state-of-the-art multi scale methods. The total funding of the Vienna Computational Materials Laboratory for the first 4 years amounts to 3.9 million euros. For further details, please feel free to contact us.
Participating Researchers at the 10th ViCoM Workshop in Stadtschlaining (March 30/31 2016)
Events
no news in this list.
VIENNA COMPUTATIONAL MATERIALS LABORATORY
Sensengasse 8/12
A-1090 Vienna
AUSTRIA
T: +43-1-4277-51401
F: +43-1-4277-9514
E-Mail